in Melbourne, Australia

in Plaisance, Mauritius


Government of
Mauritius



International
Recipe Links

Recipes from Mauritius




Message Board

Advertising & Sponsorship Requests


Send mail
to subscribers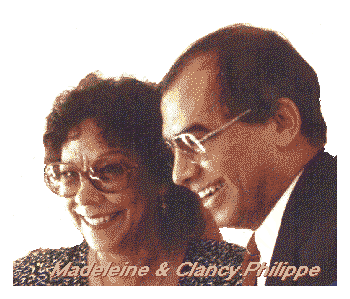 Madeleine &
Clancy Philippe
Copyright © Clancy J Philippe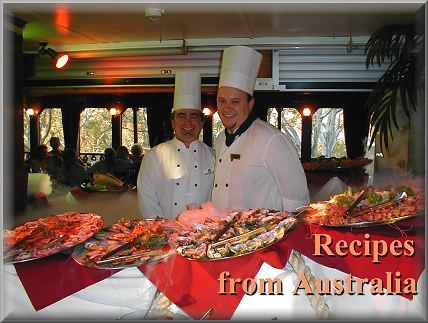 Australian Cuisine today is a blend of cuisine from all parts of the world combined with true indigenous cuisine. The local seafood, lamb roast, kangaroo meat, wichety grubs and other staple Aboriginal foods, Irish stew, meat and four vegs, bangers and mash of the early migrants have now been complemented with with lasagna, kebabs, mousaka, sweet and sour pork, dim sums, hot curries, bouillabaisse, venison, Creole carri poule, ghoulash, lahksa, frankfurter dishes and many more. In addition, the advent of tourism has created a whole new range of modern day foods skillfully prepared with the abundant supply of local and imported ingredients. World class Australian wines have also added to the enjoyment of this rich Australian cuisine, enjoyed by all Australians and visitors to the country.
The Aborigines have been using Australia's natural food resources for the last 40,000 years. Bushfoods include deliciously tangy fruits from the rainforests, aromatic herbs from our woodlands, zingy pepperleaf and delicate snowberries from the southern highlands, spicy bush tomatoes from the the desert, and lean rich game meats from kangaroo and emus.
Philippe OnLine has invited renowned chefs, lovers of Australian cuisine, Australian celebrities and many big Australian names to share their favourite recipes with you. We hope that you will enjoy the presented recipes and will appreciate your feedback and suggestions.
Please use to translate your chosen recipes

Philippe OnLine-Puts you on the Internet
Designed and compiled by Madeleine and Clancy Philippe
Information contained in this homepage is given as supplied and in good faith. No responsibility is taken for any losses or misgivings which may arise from the use of any supplied information. We welcome emails bringing to our attention any inaccuracies or suggestions for improvement. No liability will be accepted by the owner of this site. We take care in compiling details, but cannot accept responsibility for any errors.
Copyright © Clancy J Philippe - Compiled December 2000.
Many thanks to the contributors for sharing their favourite recipes with us.