in Melbourne, Australia

in Plaisance, Mauritius


Government of
Mauritius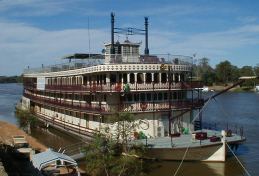 PS Murray Princess,
Mannum, SA 5238,
Australia




International
Recipe Links

Advertising & Sponsorship Requests


Send mail
to subscribers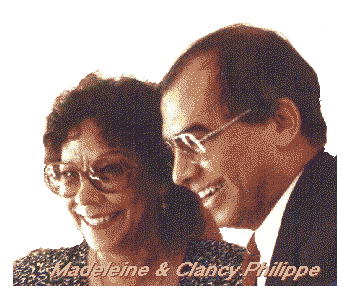 Madeleine &
Clancy Philippe

Copyright © Clancy J Philippe
Murray Red Kangaroo
with pumpkin risotto and bush tomato chutney

PS Murray Princess, Mannum, South Australia

Ingredients (serve 2):

1 kg Kangaroo tenderloin

300 grams Pumpkin

1 cup Alborio rice

2 Tablespoons Red ochre bush tomato chutney

Salt and pepper to taste

250 grams diced Spanish red onion

100 grams Butter

2 cloves Garlic crushed

300 ml vegetable stock


Matthew Lewis (Chef) & Tim Higgs
(Assistant Chef) on the PS Murray Princess


Method:

Roast off pumpkin, then puree to a fine consistency.
Fry the butter, crushed garlic and onions. Add to the pumpkin puree with the rice, vegetable stock and bring to the boil in a saucepan over medium heat. Reduce until all the liquid is absorbed. Remove from heat.
Rub the kangaroo tenderloin with the crushed garlic. Seal the kangaroo tenderloin in a frying pan with the butter. Season with salt and pepper to taste. Remove from frying pan and place in 220 degrees Celsius oven for 5 minutes.
Remove from oven and allow to rest for 5 minutes. Cut into thin slices and serve with the risotto and Red Ochre bush tomato chutney.
Enjoy.

We gratefully acknowledge this contribution from Matthew Lewis and Tim Higgs of the PS Murray Princess on the Murray River in South Australia.
Designed and compiled by Madeleine and Clancy Philippe
Information contained in this homepage is given as supplied and in good faith. No responsibility is taken for any losses or misgivings which may arise from the use of any supplied information. We welcome emails bringing to our attention any inaccuracies or suggestions for improvement. No liability will be accepted by the owner of this site. We take care in compiling details, but cannot accept responsibility for any errors.
Copyright © Clancy J Philippe - Compiled December 2000.
Many thanks to the contributors for sharing their favourite recipes with us.