in Melbourne, Australia

in Plaisance, Mauritius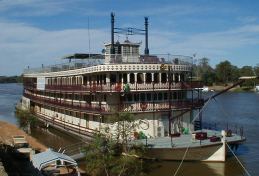 PS Murray Princess,
Mannum, SA 5238,
Australia




International
Recipe Links

Advertising & Sponsorship Requests


Send mail
to subscribers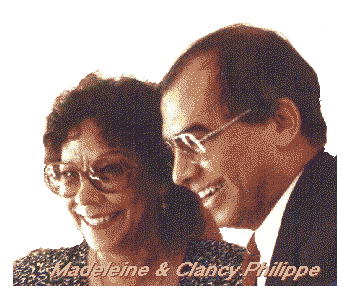 Madeleine &
Clancy Philippe

Copyright © Clancy J Philippe
Little Lamingtons

PS Murray Princess, Mannum, South Australia

Ingredients:

125 grams Soft butter

170 grams Sugar

2 Eggs

1 teaspoon Vanilla essence

190 grams Plain flour

2 teaspoons Baking powder

150 ml Milk

Flaked or shredded coconut for coating

Strawberries for decoration

23 cm square cake mould


Matthew Lewis (Chef) & Tim Higgs
(Assistant Chef) on the PS Murray Princess

Icing:

500 sifted Icing sugar

50 grams Dutch cocoa

40 grams Soft butter

2 teaspoons Vanilla essence

20 ml Liqueur of your choice

Method:

Beat butter and sugar together until pale and fluffy.
Add one egg at a time, beating well after each addition.
Slowly add and blend in the combined flour and baking powder.
Separate into two batches and slowly blend in milk in two halves.
When mixture is well blended, place into cake mould and bake at 175 degrees Celsius for approximately 25-30 minutes or until cooked.
For icing, combine all icing ingredients with 100 ml of water. Mix until smooth.
Allow the cake to cool. Cut into 4 cm squares and dip each one briefly in the icing, then the coconut.
Serve decorated with strawberries.

We gratefully acknowledge this contribution from Matthew Lewis and Tim Higgs of the PS Murray Princess on the Murray River in South Australia.
Designed and compiled by Madeleine and Clancy Philippe
Information contained in this homepage is given as supplied and in good faith. No responsibility is taken for any losses or misgivings which may arise from the use of any supplied information. We welcome emails bringing to our attention any inaccuracies or suggestions for improvement. No liability will be accepted by the owner of this site. We take care in compiling details, but cannot accept responsibility for any errors.
Copyright © Clancy J Philippe - Compiled December 2000.
Many thanks to the contributors for sharing their favourite recipes with us.