in Melbourne, Australia

in Plaisance, Mauritius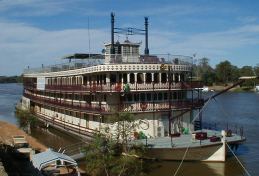 PS Murray Princess,
Mannum, SA 5238,
Australia




International
Recipe Links

Advertising & Sponsorship Requests


Send mail
to subscribers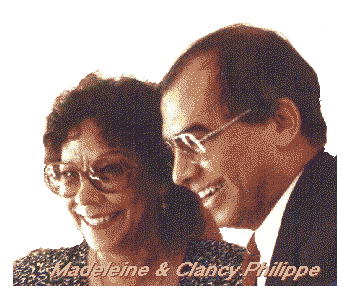 Madeleine &
Clancy Philippe

Copyright © Clancy J Philippe
Mango Cheesecake

PS Murray Princess, Mannum, South Australia

Ingredients:

400 grams Cream cheese diced

200 grams Whipped cream

6 large Mangoes, fresh pureed

300-400 grams Caster sugar

4 teaspoons Vanilla essence

60 grams Gelatine dissolved in hot water.

50 ml Lemon juice

600 grams Sweet biscuits (eg. Teddy Bear)

Melted butter


Matthew Lewis (Chef) & Tim Higgs
(Assistant Chef) on the PS Murray Princess

Strawberries for decoration

1 x 30 cm Cake/cheesecake mould

Method:

Crush the sweet biscuits to a very fine texture and add gradually some melted butter to form a firm but slightly moist paste.
Push the biscuit base into the greased mould base and sides to about 1 cm thick.
In a blender or by hand, blend the cream cheese with the lemon juice. When softened, slowly add the the mango puree, sugar, vanilla essence and mix well together.
Add the whipped cream and slowly fold into the mix. Add and fold in the gelatine.
Pour the cheesecake mix into the mould. Even out the mix and place in refrigerator to chill.
When set, carefully remove from mould. Cut into triangular slices, decorate with strawberries and serve with cream.

We gratefully acknowledge this contribution from Matthew Lewis and Tim Higgs of the PS Murray Princess on the Murray River in South Australia.
Designed and compiled by Madeleine and Clancy Philippe
Information contained in this homepage is given as supplied and in good faith. No responsibility is taken for any losses or misgivings which may arise from the use of any supplied information. We welcome emails bringing to our attention any inaccuracies or suggestions for improvement. No liability will be accepted by the owner of this site. We take care in compiling details, but cannot accept responsibility for any errors.
Copyright © Clancy J Philippe - Compiled December 2000.
Many thanks to the contributors for sharing their favourite recipes with us.