in Melbourne, Australia

in Plaisance, Mauritius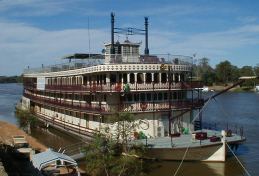 PS Murray Princess,
Mannum, SA 5238,
Australia




International
Recipe Links

Advertising & Sponsorship Requests


Send mail
to subscribers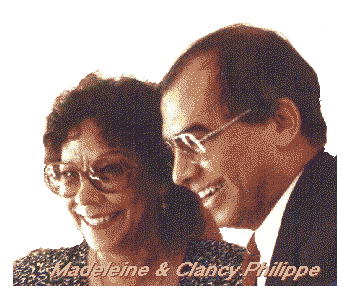 Madeleine &
Clancy Philippe

Copyright © Clancy J Philippe
Summer Berry Pudding

PS Murray Princess, Mannum, South Australia

Ingredients:

3 slices of white bread with crusts removed

200-300 grams assorted berries (blackberries, strawberries etc) marinated in 300 grams sugar syrup overnight.

Berry coulis made from juice of assorted berries

30 grams gelatine dissolved in small amount of hot water

3 greased doriole moulds


Matthew Lewis (Chef) & Tim Higgs
(Assistant Chef) on the PS Murray Princess


Method:

Cut bread into desired shapes to fit the moulds and coat both sides with the berry coulis. Place into moulds lining all sides and bottom as well.
Add disolved gelatine to the marinated berry mixture and gently stir into moulds.
Cover and allow to set in fridge.
When set, carefully remove from mould and place in serving dish.
Decorate and serve with fresh berries.

Sugar syrup: Place 300 gram sugar and 300 ml water in a pan. Bring to boil, don't stir, reduce to a nice syrupy consistency, but not too thick. Allow to cool. Place berries in syrup and cover. Place in cool area, not in fridge, and allow to marinate overnight.

We gratefully acknowledge this contribution from Matthew Lewis and Tim Higgs of the PS Murray Princess on the Murray River in South Australia.
Designed and compiled by Madeleine and Clancy Philippe
Information contained in this homepage is given as supplied and in good faith. No responsibility is taken for any losses or misgivings which may arise from the use of any supplied information. We welcome emails bringing to our attention any inaccuracies or suggestions for improvement. No liability will be accepted by the owner of this site. We take care in compiling details, but cannot accept responsibility for any errors.
Copyright © Clancy J Philippe - Compiled December 2000.
Many thanks to the contributors for sharing their favourite recipes with us.